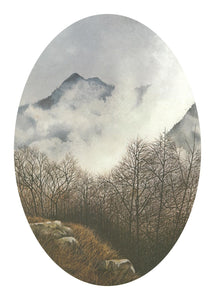 THE CHIMNEYS:
A Smokies winter landscape depicting the Chimney Tops. Gray mist, granted ethereal form by the artist's brush, rises slowly from deep valleys beneath the Chimneys. Rain clouds clear away, and the ever-changing mist reveals the Chimney Tops.
Art Info:
Watercolor
Original by Terri Waters
Original from the collection of Don Rothgab
Option Details:
Print (Lithograph) • 5.0" x 7.0"

• ($10.00) - SOLD OUT
Print (Lithograph) • 10.0" x 14.5"

• ($150.00) - SOLD OUT

Limited Edition: 500
Printed on paper
Signed and Numbered
More Info:
Prints do not include frames or mats.