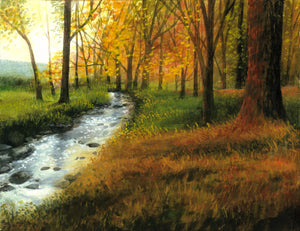 GOLDEN AFTERNOON:
A Smokies watercolor landscape of a perfect fall day in Cades Cove. Sunlight turns the leaves to gold and sparkles on icy waters, singing a mountain melody on a golden afternoon.
Art Info:
Watercolor
Original by Terri Waters
Original from the collection of Ted & Jackie Stephens
Option Details:
Print (Offset Lithograph) • 10.25" x 8.5"

• ($20.00)

Hand signed
Printed on paper - 100# matte text
Print (Giclée) • 14.75" x 11.5"

• ($30.00)

Hand signed
Printed on 

fine art paper 230 gsm
Print (Giclée) • 28.5" x 22.0"

• ($250.00)

Limited Edition: 250
Printed on 

watercolor paper 310 gsm

Signed and Numbered
More Info:
Prints do not include frames or mats.