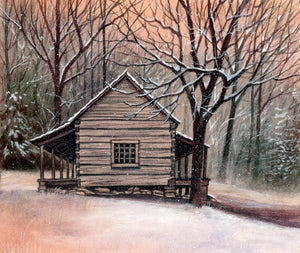 HOME FOR THE AGES / JUNGLEBROOK:
Daybreak brings a pastel glow to the freshly fallen snow in this winter watercolor landscape of the Junglebrook cabin in the Smokies. The Noah 'Bud' Ogle cabin was built in 1879 by Bud Ogle and his wife, Cindy. Their farm at that time encompassed 400 acres. The cabin still stands today as a testament to the ingenuity of the mountain people who came with hopes and dreams for a better life and lived in harmony with nature. It is preserved by the Park Service to provide a glimpse of mountain life.
Art Info:
Watercolor
Original by Terri Waters
Original from the collection of Steve Chambers
Option Details:
Print (Offset Lithograph) • 8.0" x 6.5"

• ($15.00) 

Printed on 

paper - 100# matte text

Frame and mat are not included.
Print (Offset Lithograph) • 14.5" x 12.0"

 • ($50.00)

Printed on paper - 100# matte text
Frame and mat

 

are not

 

included.