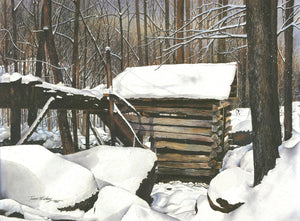 THE JUNGLEBROOK TUBMILL:
A Smokies winter watercolor landscape of the Junglebrook tubmill. There is scarcely any sound in the winter-silent forest, save that of river water running deep under its translucent glaze of ice. Water caught in the wooden millrace is held in frozen suspension, and the millstones lie quiet within the shadowy interior of the old log tubmill. This painting is from a series of three images—the Junglebrook cabin, barn and tubmill.
Art Info:
Watercolor
Original by Terri Waters
Original from the collection of George Keifer
Option Details:
Print (Offset Lithograph) • 18.5" x 13.5"

• ($80.00)

Limited Edition: 500
Printed on 

paper - 100# matte text

Signed and Numbered
Frame and mat are not included.