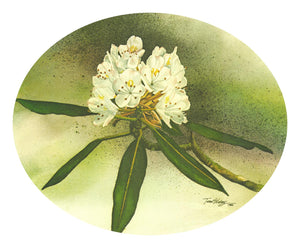 RHODODENDRON:
A floral watercolor of delicately tinted Rhododendron blooms. In late spring, the Rhododendron bushes, hidden deep in the piney forests of the Smoky Mountains, awaken from their long winter sleep. Long green leaves unfurl, crowned by clusters of pale flowers, where bumblebees gather their nectar before the morning dew dries.
Art Info:
Watercolor
Original by Terri Waters
Original from the collection of Wallace Hunt
Option Details:
Print (Offset Lithograph) • 13.5" x 11.0"

• ($50.00)

Limited Edition: 500
Printed on 

paper - 100# matte text

Signed and Numbered
Frame and mat are not included.