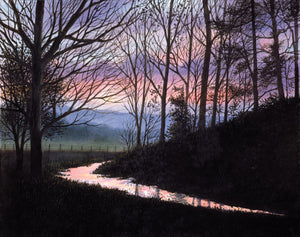 RIVER REFLECTIONS:
A Cades Cove watercolor landscape of a Smokies evening. The last glimpse of mauves and pinks linger in the night sky and reflect in the water. The coming of darkness brings mists that hover over fields beyond the distant fence row and stretch toward blue mountain horizons. Trees are silhouettes against the fading light.
Art Info:
Watercolor
Original by Terri Waters
Original from the collection of Ted & Jackie Stephens
Option Details:
Print (Offset Lithograph) • 10.0" x 7.75"

• ($25.00)

Hand signed
Printed on paper 

100# matte text 
Print (Offset Lithograph) • 19.5" x 15.5"

• ($55.00)

Limited Edition: 800
Printed on paper 100# matte text 
Signed and Numbered
Print (Giclée) • 28.0" x 22.0"

• ($350.00)

Limited Edition: 50
Printed on watercolor paper 310 gsm
Signed and Numbered
More Info:
Prints do not include frames or mats.