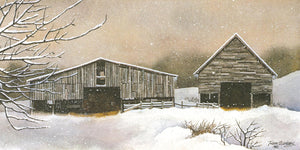 WINTER'S EVE:
A watercolor of old barns against a winter landscape. Side-by-side like old friends, the ancient buildings have weathered the harshness of countless winters that set their old boards to creaking in the cold. And again, the time has come to withstand the rigors of the season.
Art Info:
Watercolor
Original by Terri Waters
Original from the collection of Ted & Jackie Stephens
Option Details:
Print (Offset Lithograph) • 14.0" x 7.0"

• ($40.00)

Limited Edition: 500
Printed on 

paper - 100# matte text

Signed and Numbered
Frame and mat are not included.